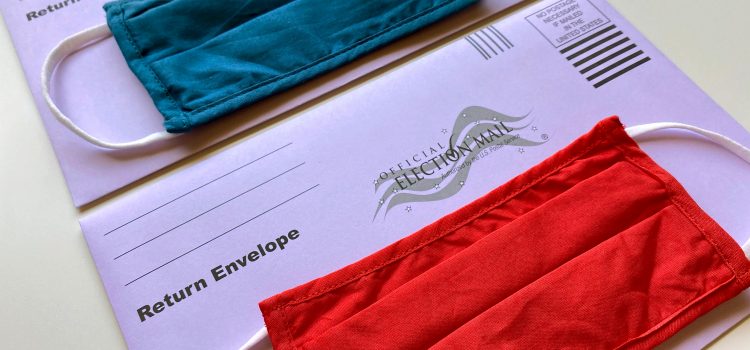 By Anthony Dabbundo
This post was updated on 10/27/2020. The original post underestimated spending by the Biden campaign. Illuminating 2020 estimates for both campaigns were updated throughout the post, including text and figures. The original post included a statement indicating that Trump outspent Biden for the week of 9/28 to 10/4. This statement has been removed in the updated post given that Illuminating 2020 currently estimates that Biden outspent Trump for the week of 9/28 to 10/4. 
The week from Sept. 28-Oct. 4 may go down as one of the most news-packed weeks American politics has seen in a long time. First, the New York Times published a story claiming President Trump paid little to no income tax for many years before and after becoming the President. On Tuesday night, Trump and Biden met for the first time on the debate stage in Cleveland. Two days later, it was revealed that White House official and senior advisor Hope Hicks had tested positive for COVID-19 and was symptomatic. Thursday night, Trump announced on Twitter that he and First Lady Melania Trump had also tested positive for COVID-19. By Friday, Trump was in the hospital for precautionary reasons, and he was released back to the White House on Monday.
Biden announced when Trump went to the hospital on Friday that his campaign would no longer be running negative ads against the President. Biden did spend $921,211 on attack ads in the week from Sept. 28-Oct. 4, but that spending appears to be most heavily focused on post-debate criticism, before Trump's COVID diagnosis. 
Below is a graph of week-by-week total spending from Biden and Trump, which shows that while Biden spent little in the month of July, the trendline in his overall spending is up, and Biden now regularly spends north of $3 to $4 million on Facebook and Instagram ads weekly.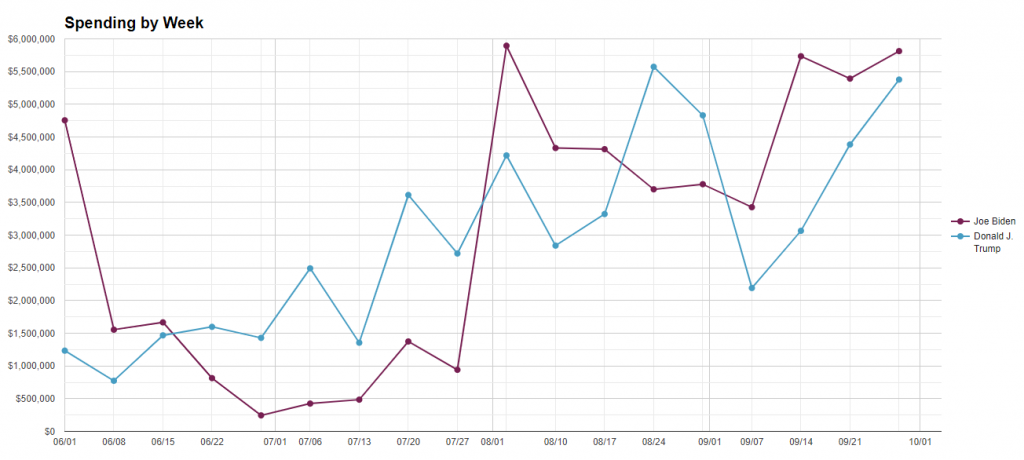 Trump outspends Biden on COVID-19 messaging
Throughout the course of the campaign, Biden has significantly outspent Trump on messages related to COVID-19. But in the last week, Biden spent just $751 (less than 1% of total spending) on ads that Illuminating classifies as COVID-19 topic messages. Compare this to President Trump, who hasn't made COVID a key part of his fall advertising blitz until this week, while he is fighting it himself. Trump has run multiple ads encouraging people to send their messages to him while he fights COVID-19 in the hospital. After governance, COVID was Trump's second-largest spending topic of the week with $154,188 (roughly 3% of total spending) on that message topic. 
Even though several polls show that COVID-19 is the number one issue facing the United States right now, Biden's team chose not to make COVID-19 a significant focus of the ads the campaign began running last week. Biden's two largest spending message topics were Military and Social and Cultural issues. For more info about our topic categories, click here.
When we compare COVID spending in the last week to COVID spending throughout September, the reversal in focus is dramatic. In the four week period from Aug. 31 to Sept. 27, Biden spent $527,545 on COVID-related messaging, compared to $13,874 for Trump. 

These numbers could go back to the typical spending patterns  if Trump makes a quick recovery from COVID and his health is more out of focus. But if Trump's COVID-19 battle continues to be the lead story in the national landscape, it remains to be seen if Biden will ramp up spending on COVID-19 or continue to avoid the topic in his Facebook and Instagram advertisements. 



Trump and Biden are hyper-focused on swing states
There is less than a month until Election Day and more than four million Americans have already cast their ballots. Trump's COVID-19 diagnosis forced him off the campaign trail last weekend, but he spent a day in Minnesota that Wednesday, which makes it a surprise to not see the state a darker shade of purple on the chart above. He didn't carry the state in 2016, but only lost it by a few percentage points. No Republican has carried Minnesota in a Presidential Election since Richard Nixon in 1972.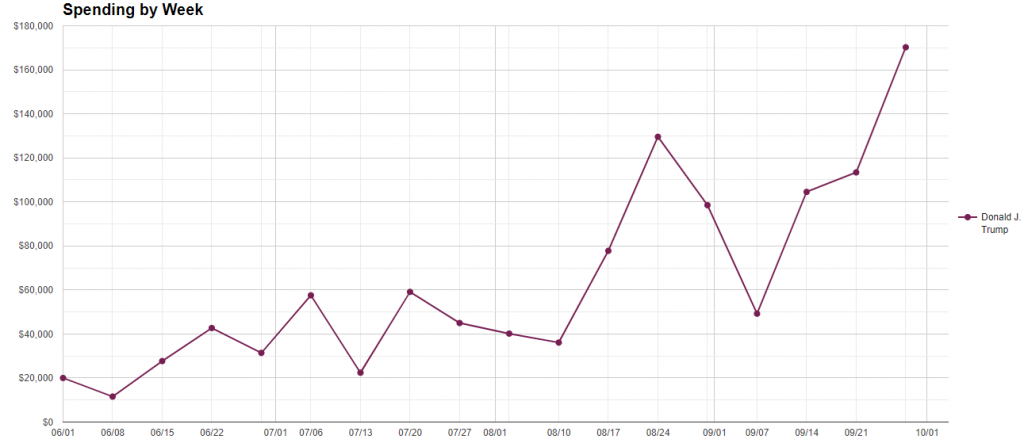 Biden followed up his debate performance in Cleveland with the launch of a midwestern tour that included stops in southwestern Pennsylvania in the suburbs of Pittsburgh. He also made a stop in Grands Rapids, Michigan on Friday, which explains his extra spending in those two states. Biden did a town hall in south Florida on Monday as well. Florida, Pennsylvania, and Michigan made up his three largest ad spends by state in the last week.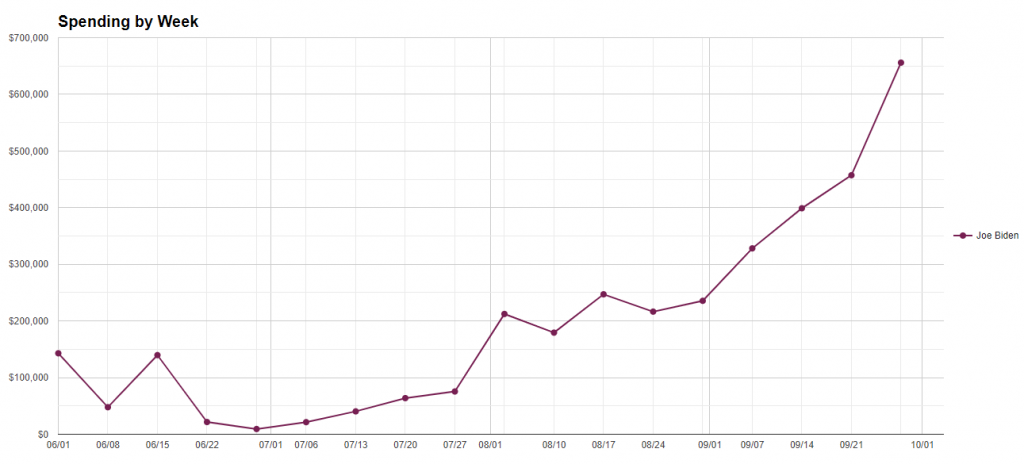 Civility remains high despite uncivil debate
Last Tuesday night's debate, according to a New York Times report, left many undecided voters unsure and unhappy with both candidates' performances. A main reason was the lack of civility between the two candidates, which was described as "useless," "ridiculous" and "horrible" by the people interviewed in the article. Despite the animosity between Trump and Biden on the debate stage, there has been very little incivility in the online advertising. 
Trump was the more uncivil candidate by ad messaging for much of August, but as the election has come nearer, the overwhelming majority of both candidates' ads are civil. This has been the case for multiple weeks now, so it's not just a reaction to the reviews of the debate.


Between the two candidates, the civil ad spending outpaced the uncivil by more than a 14-to-1 margin. The combined spending on uncivil ads was $721,879 in total, while the civil spending surpassed $10 million combined. 
For Trump, this marks the third consecutive week that his civil spending outpaced his uncivil spending, and this margin is the largest of all three weeks. With the calendar now in October, Trump is still on the attack, but his increased civility could be an attempt to persuade some undecided voters, or improve his own favorability as voters across the country are already voting.
All data is accurate as of date of publication. All spending and impression amounts are estimates based on data provided by the Facebook Ad Library API. Featured image for this post is by Tiffany Tertipes on Unsplash.
Week in Review, 10/5: Trump outspends on COVID-19 messaging