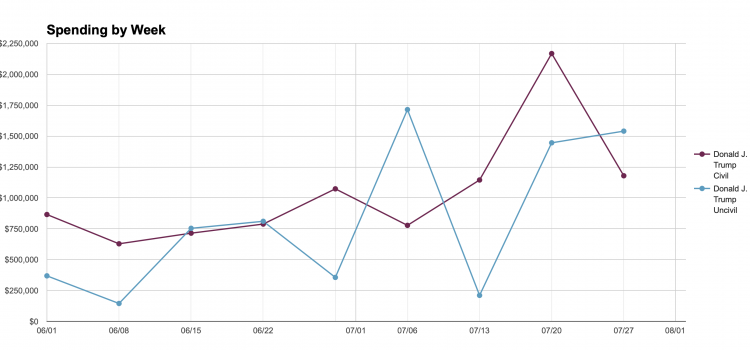 By Julia Howard-Flanders
This post was updated on 10/26/2020. The original post underestimated spending by the Biden campaign. Illuminating 2020 estimates for both campaigns were updated throughout the post, including text and figures. The Illuminating 2020 dashboard currently does not offer estimates for dates prior to June 1, 2020. To make the post consistent with the Illuminating 2020 dashboard, statements in the original post based on dates that the dashboard currently does not provide have been removed.
So far in July 2020, President Donald Trump's campaign has consistently been spending more money overall each week than presumptive Democratic nominee Joe Biden's campaign on Facebook and Instagram ads. In addition to the spending gap, one item that stands out is the sudden spike in incivility messages from the Trump campaign over the week of July 6th.
The Illuminating 2020 Project defines uncivil ads as ads "containing unnecessarily disrespectful or rude language that is used to either justifiably or unjustifiably attack another person, group, political figure, policy, or institution".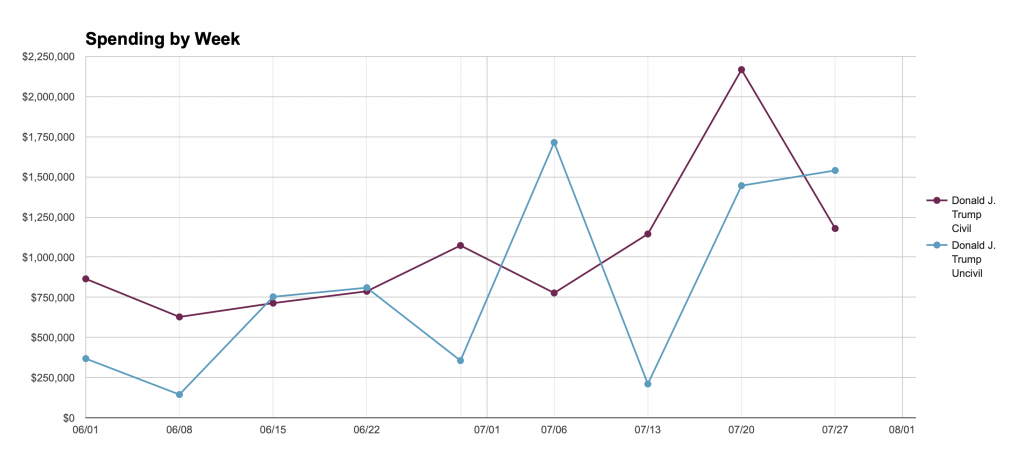 When broken down by tone, of the $2,491,588 Trump spent the week of 7/6, a massive $1,714,321 (68.8%) contributed to messages deemed to be uncivil. In comparison, Biden spent $424,693 in total on ads, of which $227,115 (53.5%) of the messages were categorized as uncivil. This is a stark increase from Trump's spending in prior weeks.

During the prior week of 6/29, 24.9% of Trump's messages were uncivil and during the following week of 7/13, only 15.5% of his messages were uncivil. So what happened during the week of 7/6 leading to the spike in incivility from the Trump campaign? What groups of people were being targeted by Trump?
Top uncivil unique ads
By examining the uncivil unique ads with the most spending for the week of 7/6, we can see which ads are driving this increase in incivility. The top two unique ads for Trump are entitled "THE DEMOCRAT CORRUPTION ACCOUNTABILITY SURVEY" and "You won't be safe in Joe Biden's America".
The messages these ads are sending are clear: the Democratic party is corrupt and Joe Biden will be unable to control the country if he is elected. Both of these ads focus on highlighting demeaning traits or conduct of Democrats in an attempt to attack and disqualify their competencies.
The first ad targets Democrats as a whole and is consistent with Trump's long-standing claim that the Democratic party is responsible for rampant corruption in Washington but does not provide any sort of justification, argument, or reasoning. Approximately $235,532 was spent on this specific ad which mainly targeted males (62.2%) and the 55-64 (26.9%) and 65+ (24.8%) age groups. It was shown throughout all the states relatively evenly with slightly higher spends in Texas (7%), California (6%) and Ohio (5%).
The second most expensive uncivil ad also targets Democrats but this time specifically mentions Joe Biden. In the ad, Trump critically mentions the slogan "Defund the police" to depict the United States as running rampant with crime. "Defund the police" is a popular slogan among participants in the Black Lives Matter movement and calls for the reallocation of funding from police departments in order to invest in local communities. This movement has gained momentum with racial justice activists following the murders of George Floyd, Breonna Taylor, Tony McDade and many more. The ad depicts protestors associated with this movement and Democrats in general as radicals and anarchists bent on destroying the U.S. It also makes misleading claims about Biden's stance on law enforcement policies. Approximately $224,326 was spent on this ad which mainly targeted females (63.8%) and the 65+ (22.6%) and 55-64 (20.9%) age groups. This ad was shown mainly within Texas (19%), Ohio (18%), Virginia (14%), and Georgia (13%).
During the week of 7/6, these two top unique ads accounted for 26.8% of the uncivil ad spending by the Trump campaign. To explore additional unique ads that correlated with this spike in incivility, as well as many other aspects of candidate spending on ads, explore the Illuminating 2020 dashboard here.
…..
All spending and impression amounts are estimates based on data provided by the Facebook Ad Library API.
Exploring a spike in incivility for the Trump campaign