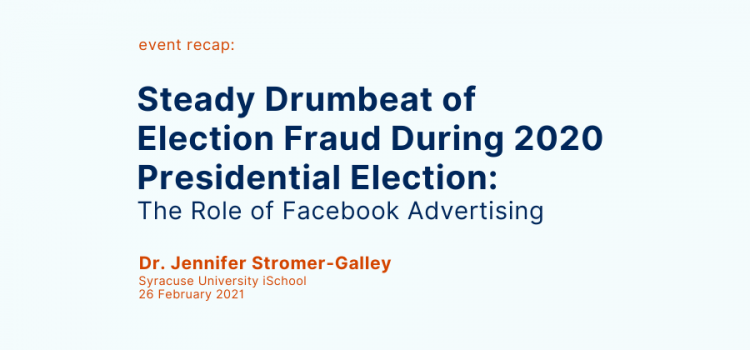 The below recap covers Dr. Jennifer Stromer-Galley's presentation, "Steady Drumbeat of Election Fraud During 2020 Presidential Election: The Role of Facebook Advertising," which she delivered at the Syracuse University iSchool on Friday, Feb. 26, 2021. Click here to view a recording of the event on YouTube, or see below for an embedded copy.
Certain aspects of the 2020 presidential election campaign were unsurprising: Candidates spent enormous volumes of money on social media advertising, for example. Other aspects of the 2020 election — such as pressing questions about the safety of in-person voting in the midst of a global pandemic — were not so easily anticipated. It is in this context that Dr. Jennifer Stromer-Galley situates and discusses a series of ads that the Trump campaign ran during the 2020 election cycle, which questioned the reliability of mail-in and absentee voting and targeted voters in specific (and sometimes surprising) ways.
In her presentation, Dr. Stromer-Galley contextualizes the Trump campaign's use of ad targeting tools as an example of the datafication of election campaigning, referring to the ability for campaigns to target voters in increasingly de-individuated, fragmented, and fine-grained ways. At the same time that Dr. Stromer-Galley explores why datafication is so appealing to campaigns, her presentation and case study invite the audience to consider the harmful impacts of datafication on democracy. 
View Dr. Stromer-Galley's presentation here:
Recap: "Steady Drumbeat of Election Fraud During 2020 Presidential Election: The Role of Facebook Advertising"