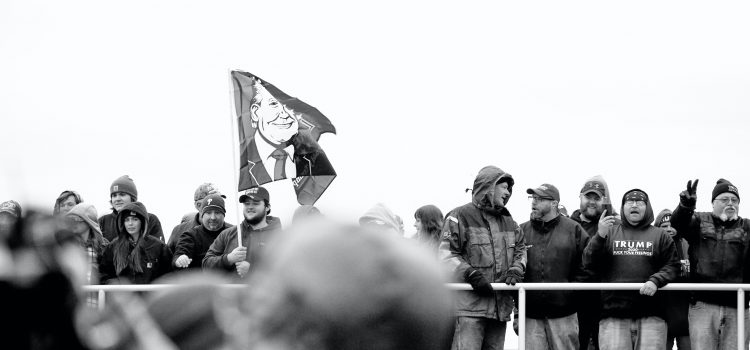 By Hailey Womer
After the polls leading up to election day predicted a lead for Joe Biden in several key swing states, many Americans have been left wondering about projected Biden losses in states like Florida, Texas, and North Carolina. While several different factors may have impacted his success in these states, unexpected demographic shifts highlighted in exit polls may have something to do with it. According to the results of a CNN nationwide exit poll, Trump picked up more Latinx voters located in these key swing states than he did in 2016. In Florida, Trump received almost half of the Latinx vote, a major improvement from the 35% he received in 2016. Trump also made dents in Biden's favorability with the Latinx community in Ohio and Georgia to only 16 and 24 percentage points from Clinton's 40 and 41 points. These shifts in favorability made us question the impact Trump's Facebook ads may have had on the sentiment of the Latinx community, forcing us to take a look into one of Trump's targeted Facebook pages, "Latinos for Trump."
Location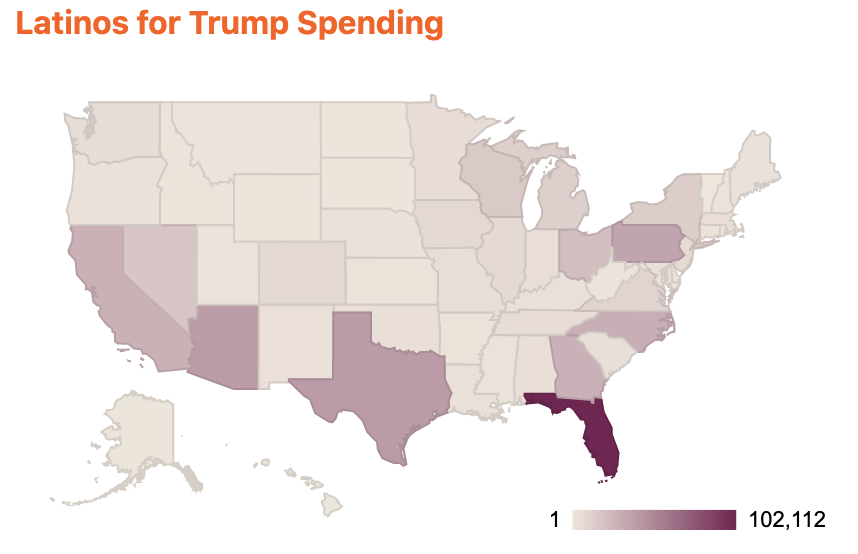 Between June 1 and Nov. 1, Trump spent $490,424 total on advertisements in the Latinos for Trump Facebook page. Of this total, an estimated $102,112 alone was spent targeting people in Florida. Arizona received about $39K, Texas about $38.8K, and Pennsylvania ads an estimated $34K in advertisements. These locations likely received the largest amount of funding due to their swing-state status and/or Latinx population statewide. According to Pew Research, last year the states with the largest Hispanic populations were Florida, Texas, and California. These statistics are likely an explanation for the Trump campaign's spending allocations, as they have attempted to utilize advertisements to reach Hispanic voters in key states and counties across the nation. According to an NBC exit poll, 55% of Cuban Americans, 30% of Puerto Ricans, and 48% of "other Latinos" in Florida voted for Donald Trump. Trump's messaging has continued to appeal to the large population of Cuban voters in Florida, specifically in the highly sought after Miami-Dade county, giving Trump the extra votes needed to likely win the state. 
Message Type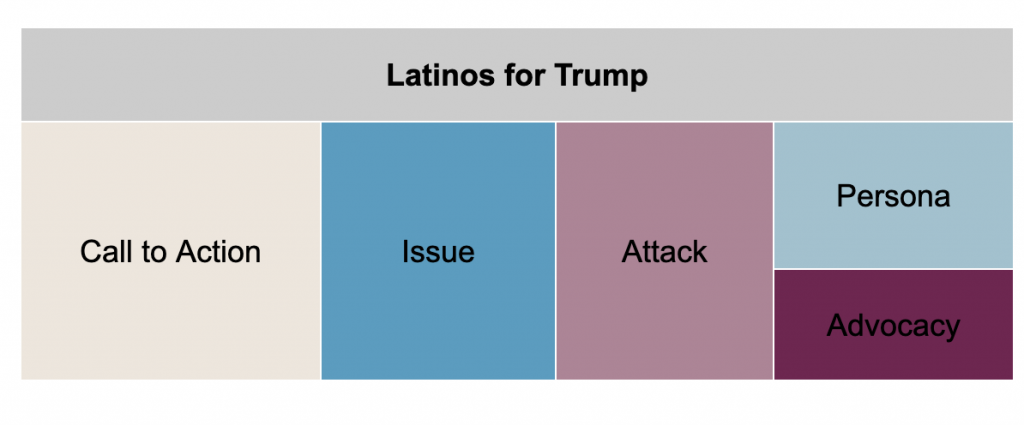 So if Trump is targeting states with large Latinx populations, what types of ads is he running to appeal to these voters? One key difference is that the Latinos for Trump ads place greater emphasis on issues, as well as ads that attack Biden and the Democrat's issues, foreign countries, the media, etc. The official page, however, emphasizes Persona and character ads, as well as attack ads. Ads associated with both pages spent the most amount on Call to Action ads.
An increase in issue-related ads and a decrease in spending on Persona ads in the Latinos for Trump page is likely done strategically to appeal to the dominant issues in the Latinx community. Issues-related ads primarily describe the candidate or opponent's issue/policy positions, often referring to economic issues, social programs, immigration, etc. Large portions of Trump's messaging in his ads and events have focused on depicting Democrats and their candidates as being "socialists" and supporting "socialist policies." Especially in states like Florida with large populations of immigrants from Venezuela and Cuba, this type of messaging resonates with voters and may have caused a shift towards the support of Trump's economic policies. With large ad buys in the state of Florida, his increase in spending on Attack ads is likely due to the state's battleground state status and the razor-thin polls seen throughout the campaign. 
Message Topic


When it comes to message topics, the official Trump Facebook page spends the most amount of money on Governance, Safety, and Economic ads. In the Latinos for Trump page, he continues to allocate money to Safety and Governance ads. However, unlike the main page, he is spending very little money on Economic messaging. Instead, he has allocated more money to Social and Cultural and Immigration ads. The most recent exit polls have shown that the majority of Latino voters listed economic issues as their top priority, making Trump's decreased focus on this topic surprising. His spending on Immigration, however, is unsurprising considering the Latinx community in America includes many immigrants and family and friends of immigrants that would resonate with this messaging. Immigration ads like the one below include messaging that expresses Trump's support for immigrants and the search for new opportunities in America. 
Age
While Trump has focused a lot of his money on ads targeting older demographics on his main page, the Latinos for Trump page spending is even more skewed towards older voters. Those 65+ have received the largest amount of money, receiving an estimated $150K in advertisements. Each demographic younger than 65+ earns less than the age group before it, demonstrating Trump's primary focus on older Latinx voters. Nationally, 51% of people 65 and older are estimated to have voted for Trump. In states like Florida, that are highly targeted by ads in the Latinos for Trump page, 52% of those 65+ and 53% of those aged 45-64 are predicted to have voted for Trump. Ads targeting this age group that is more likely to vote for Trump is likely strategic in order to get this demographic to the polls.  

Now that the election is over and Joe Biden has become the president-elect, we can begin to analyze key factors that led to the unpredictability of this race. In 2016, Hillary Clinton won 65% of the Latinx vote to Donald Trump's 28%. Her lead in key counties in Florida and other battleground states that have a large population of Hispanic voters was expected to be just as great if not better for Joe Biden, propelling him to flip some states blue. However, with a devastating upset in Florida for the Biden campaign, their predicted loss of Hispanic voters and the contribution of ads to this loss is likely something that is going to be strongly analyzed after the election and going forward. 
All data is accurate as of 11/9/20. All spending and impression amounts are estimates based on data provided by the Facebook Ad Library API. Feature Photo by David Todd McCarty on Unsplash
Trump's Ad Spending Breakdown in the "Latinos for Trump" Facebook Page