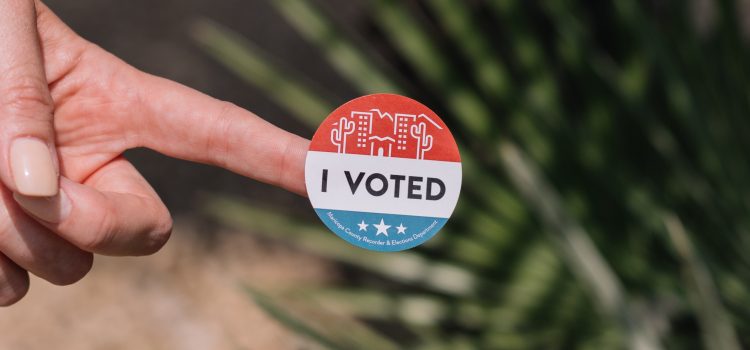 Prior to the election, many analysts predicted that Arizona would be a tight race and a key battleground state for both campaign's path to victory. Donald Trump ran ads in Arizona from several different Facebook pages. In addition to his main page (Donald J. Trump), the President spent the most money on the Team Trump, Mike Pence, and Trump for Arizona pages. Using data collected by Illuminating, trends about the demographics Trump targeted can be examined, comparing state-specific strategy to what Trump did overall.
Message Topic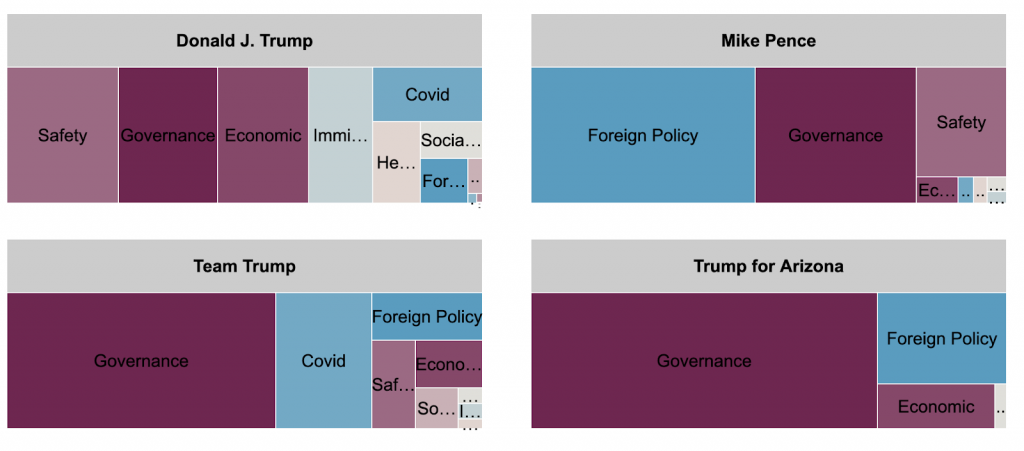 As seen from the treemaps above, major topics for Trump's Arizona ads were safety, governance, foreign policy, COVID-19, and economic issues. This is not very different from what he did overall. In Arizona, there was a slightly higher emphasis on safety, immigration, and COVID-19 than when looking at Trump's overall campaign spending, shown below.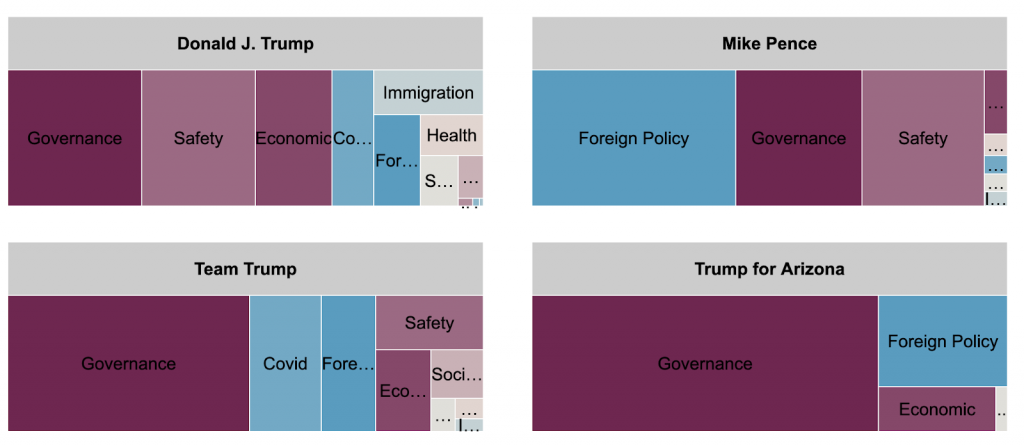 By Gender

Gender was split fairly evenly. The Donald J. Trump and Team Trump pages spent slightly more on males while the Trump for Arizona page spent slightly more on females. This is also reflective of what Trump did overall.
By Age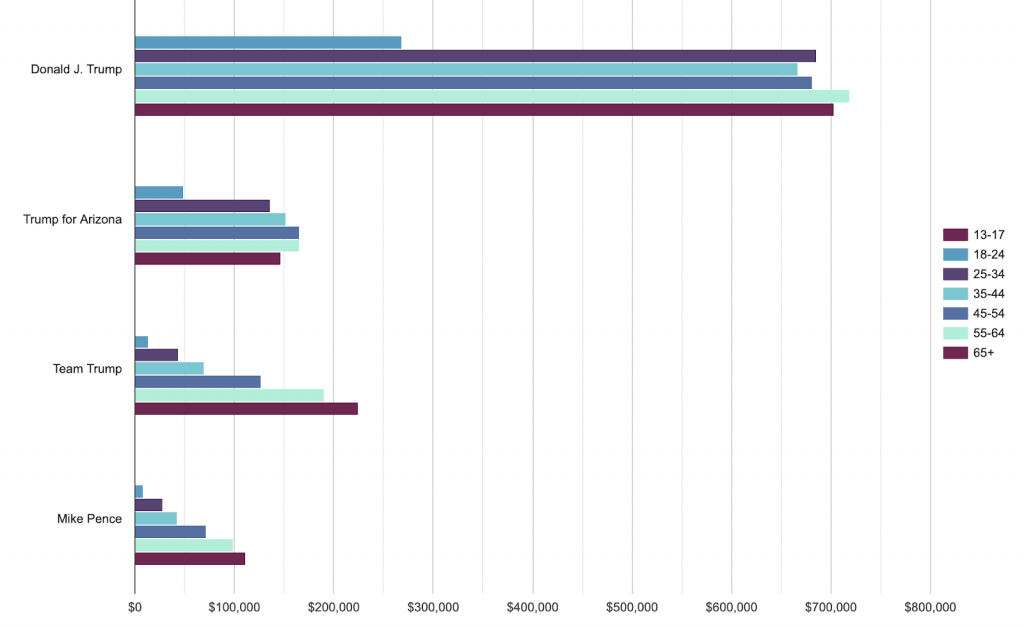 For Trump's main Facebook Page (Donald J. Trump), the amount of money spent amongst age groups in Arizona was more evenly distributed than it was overall. Looking at the chart above, Donald J. Trump spent very similar amounts on people over the age of 25. The chart below shows the aggregated data for the US overall. Overall, he spent more on older age groups, specifically 55-64 year-olds. On the Trump for Arizona page, he also spent fairly similar amounts across age groups, rather than putting most of the money towards 55-64 year-olds.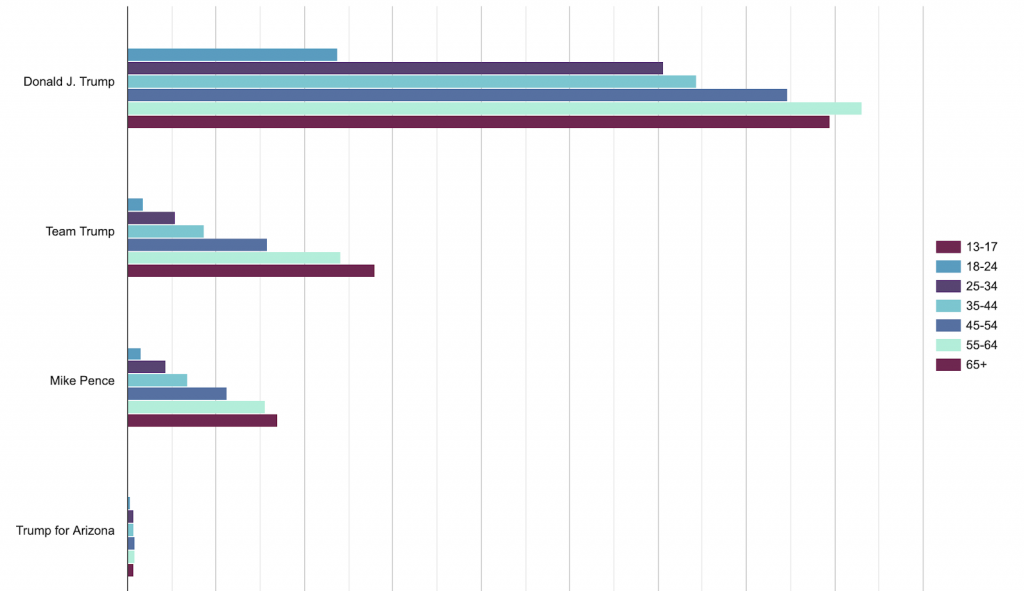 Message Type
Across the four Trump pages, most of the ads were "Call to Action." Examples of this message category are his ads encouraging people to vote early and fill out their absentee ballots. This is somewhat surprising given that Trump had been a loud critic when it comes to early voting and mail-in ballots in the lead up to the election (see Tweets below).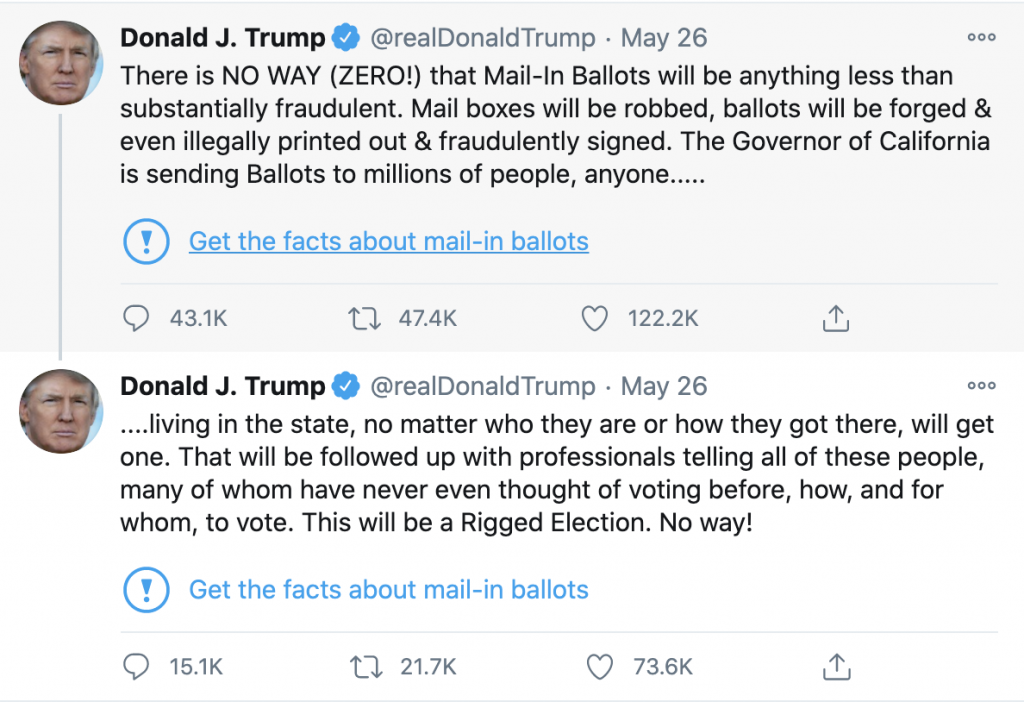 However, Trump's public criticism did not stop him from advertising for Arizonians to vote early because "we cannot let the extreme radical left take over!" Nor has it stopped him from advertising for people in Arizona to request their ballots in advance because "time is running out." Indeed, one of the ads urging people to request their absentee ballots is accompanied by an image of Trump with the caption, "Vote absentee like Trump!"
These four pages also spent $2,624,394 on attack ads and $2,443,723 on persona ads in Arizona from June 1 through the end of October (data from Illuminating). It appears that these ads had the goal of discouraging Biden votes, rather than getting Trump votes.
One ad alleges that Biden was responsible for mass incarceration laws that "destroyed a GENERATION of black families." This ad includes a video featuring clips of Biden (when he was younger) saying "take them out of society." It is unclear who "they" refers to, but the video suggests the "they" Biden is referring to are black people. The ad features no information about any of Trump's policies or positions on matters pertaining to racial equality and injustice. It does not use Biden's attitudes towards race and policies as a way to contrast Trump's, so its purpose is not to show how Trump is better than Biden. Rather, it attempts to show how Biden is not good enough, which may discourage people from voting in general.
Trump also ran ads that had memes attached. The memes had the captions "The Last Time Joe Biden Was in Office" along with photos of what things used to cost. For example, the price of gas. These ads started running towards the end of October. At the beginning of October, this image circulated around Facebook. The image is a photo of gas prices exceeding $5 with the caption, "Remember when the good old days when Barrack [Barack] and Joe were in charge??? Let me refresh your memory." That has been fact-checked and was a photo taken during Obama's presidency, but during an abrupt spike in gas prices. According to data from the US Bureau of Labor Statistics, the average price of gas when Obama left office was at $2.35. This made the image very controversial, as it was clearly stretching the truth. However, a few weeks later, Trump's Facebook pages made their own very similar ad. The images in the ad were lower prices than the original meme, as they range from $4.09 to $4.25. They are still misleading though, as the average price for gas under Obama never exceeded $3.93 per gallon. This is not to say the image is fake. If the average at one point was $3.93, it is likely that for some locations, it did exceed $4. However, that was a brief spike, and the ad frames it as if that is what gas was like during Biden's entire Vice Presidency.
Trump also ran ads calling Biden "Sleepy Joe", saying that he has not accomplished anything after decades in the "Washington Swamp." He also calls Joe a puppet of the Democratic Party. These ads are then followed by an image of Biden, either with his eyes closed or photoshopped onto a bed.
Overall, Trump's advertising strategy for Arizona was similar to his overall approach, especially when it comes to the topics of the ads and gender. When it comes to age, it appears that he was targeting a younger audience in Arizona than he did overall but still did not target many 18-24 year-olds. Looking at the specific ads, it appears that he encouraged people in Arizona to vote early and mail-in, despite his criticisms. He also ran many anti-Joe Biden ads, potentially as a way to discourage people from voting altogether.
All data is accurate as of date of publication. All spending and impression amounts are estimates based on data provided by the Facebook Ad Library API. Photo by Phillip Goldsberry on Unsplash
How Trump Used Facebook Ads in Arizona