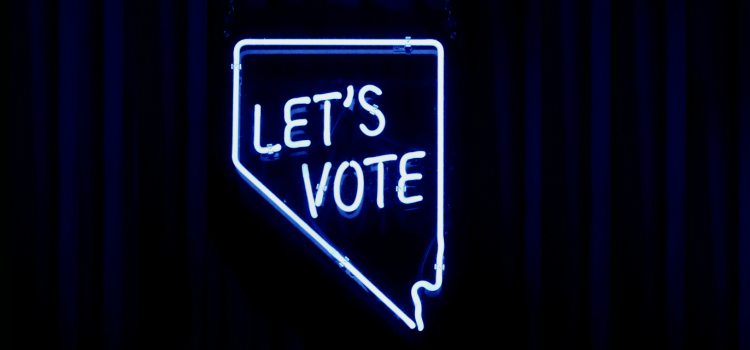 by Julia Howard-Flanders
With a population a little over 3,000,000, Nevada currently holds 6 electoral votes. As a battleground state that, according to the U.S. Census Bureau, is 48.2% White alone (not Hispanic or Latino), 29.2% Hispanic or Latino, and 10.3% Black or African American alone, it has historically voted for the Republican candidate seven times and the Democratic candidate six times in the 13 presidential elections since 1972. Of those 13 elections, only twice–in 1976 and in 2016–did the state side with the candidate who lost the election. Interestingly, since the 1992 Presidential election, Nevada has voted for the Democratic candidate six out of eight times, including this year. Regardless, the spread of votes within Nevada has been close for Democrats and Republicans allowing Nevada to maintain its status as a swing state in the 2020 Presidential election.
Consistent with some analysts' predictions, Nevada turned out to be a close race. The Associated Press declared Biden the winner with an estimated 50.1% of the votes compared to Trump's estimated 47.7% in Nevada. Given how close the race was, it is worth exploring each campaign's digital advertising strategy in the Silver State.
Spending
Knowing the state could sway either way, both the Biden and Trump campaigns ramped up spending in Nevada as the election drew nearer.
In total, since June 1, the Biden main page spent $1,588,365 on ads directly targeting Nevada, which is $241,157 more than that of the Trump main page. However, when we factor in all the other pages operating in support of the candidates, such as Team Trump and Trump for Nevada, spending toward ads in Nevada increases to $1,905,035 in support of Trump which surpasses the $1,747,540 in total supporting Biden. For a full list of Facebook pages the Illuminating project has identified in support of each candidate, please see Candidate Pages under the Measure sidebar.
Messaging
To get a more detailed understanding on how the candidates are targeting FB and Instagram users in Nevada, let's look at the messaging by type, topic, demographics, and civillity from the main Trump and Biden pages. When analyzing the spending on ads that ran in Nevada, it isn't surprising that both Biden and Trump's most significant type of ad is a call to action. These ads are worded such that they inspire a clear directive for users to take such as watching a video, clicking a link, retweeting or sharing.
Trump's campaign spends similarly in call to action ads as it does with attack and issue ads. 64.4% of Trump's ads are classified as call to action, 53.7% as attack and 52.7% as issue which means the majority of his ads most likely span across multiple types. If we add up the percentages of just these three classifications of message type, they total to 170.8%. Statistically speaking, if these classifications did not overlap with each other, they would not surpass 100%.
For Biden, only 39.1% of ads are call to action, 17.8% are advocacy, and 15.6% are persona meaning he most likely has run ads that have little or no textual body component such as photos or videos. If we add up the percentages of all five classifications of message type for Biden, only 90.4% of ads have at least one type label. This means that at least 9.6% of ads run by Biden do not have enough of a textual component to classify them into one of these topics, which is most likely an underestimate since we see how easy it is for classifications to overlap with Trump'
This hypothesis is further enforced when we examine the topics covered within ads for both candidates. It's evident that Trump's spending towards ads with topics in general, far surpasses the amount Biden spends towards ads that have been classified with a topic. Trump's total spending on ads with a topic classification is $646,559, while Biden's is 1/5 of that at $128,171. This is not to say that many of Biden's messages truly had no topics. Instead, he most likely ran many ads with pictures and videos, which do not get labeled with topics.
The four topics where Biden's spending is greater than Trump's spending are Education, Social and Cultural, Environment, and Military. However, this trend is consistent not within just Nevada. In comparison, if we examine Biden's spending by topic with all states included, his spending in these four categories plus the Foreign Policy topic, is greater than Trump's spending in all states across these topics. The takeaway from this is that Biden did not allocate as much money in Nevada toward ads discussing Foreign Policy issues as he did within the U.S. as a whole.
Demographics
When looking across demographic factors like age and gender, Biden targeted females (56.4%) more than males while Trump mainly targeted males (52.8%). In Nevada, Biden focused on a younger demographic relative to Trump. 44.9% of Biden's spending went towards ads for those aged 25-44, while 40.1% of Trump's spending went towards that of viewers aged 55+.
A key takeaway for Nevada is that of all the ads run from June 1 till November 18th, a whopping 97.7% of Biden's ads were labeled as civil and only 66.3% of Trump's were. This is only a slight increase for Biden from the 95.2% civility across all states and a slight decrease for Trump from the 67.3% civil across all states.
All data is accurate as of date of publication. All spending and impression amounts are estimates based on data provided by the Facebook Ad Library API. The estimates provided in the Messaging and Demographics sections are for Trump and Biden's main Facebook page only. Feature photo by Manny Becerra on Unsplash.
Noteworthy News in Nevada: A Retrospective on 2020 Presidential Election Campaign Ads in the Silver State