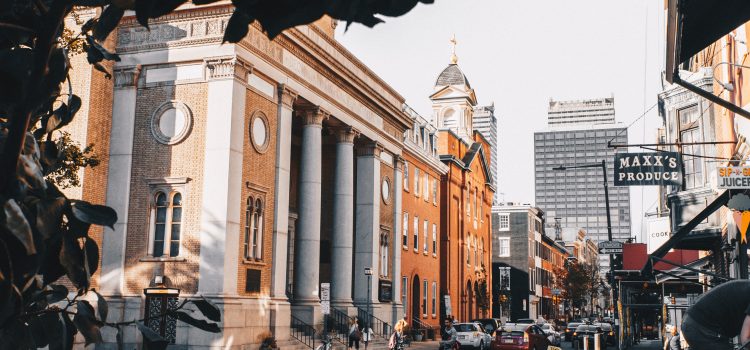 By Anthony Dabbundo
As the 2020 Presidential campaign enters the final week, one of the crucial battlegrounds where both campaigns have made visits, done town halls and run political ads is Pennsylvania.
FiveThirtyEight's election forecast says that Pennsylvania is the most likely tipping point state, which is the state that gives the winning candidate their 270th electoral vote and clinches the Presidential election win for them. In 2016, Wisconsin was the tipping point.
Below is a spending breakdown of Facebook and Instagram ads in Pennsylvania alone, including a specific "Trump for Pennsylvania" page that Illuminating has begun tracking and compiling data for. There's been a dramatic increase in spending by both candidates since the beginning of August, and it has continued to increase in September and October as the election has gotten closer.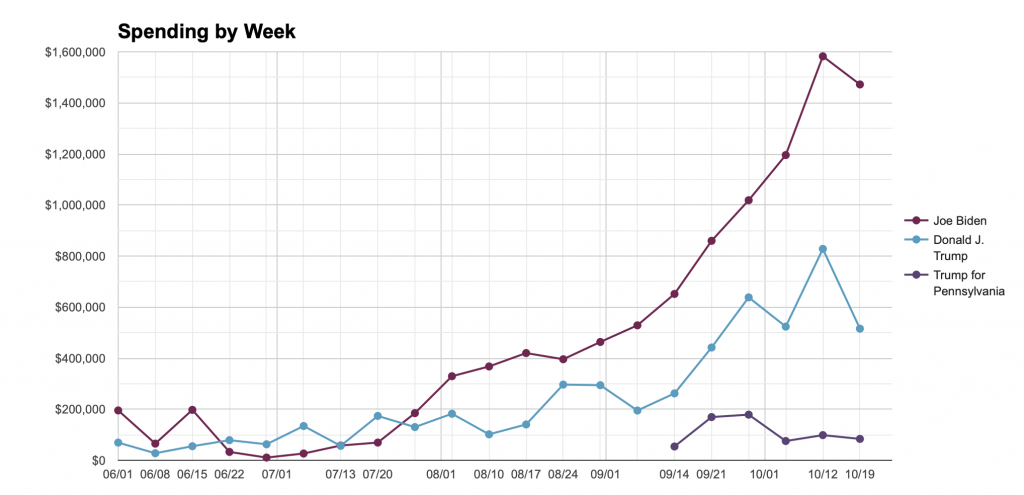 Biden's spending is more directed toward females
Biden's campaign, much like the Democratic party, is more reliant on women than men for the base of the party, and the ad spending reflects that in the Keystone State. Meanwhile, Trump is spending almost the exact same amount each week targeting both men and women. As shown in the graph below, the Trump campaign's spending on ads targeted toward women and men almost exactly overlap each week since June, while there's a clear divergence for Biden.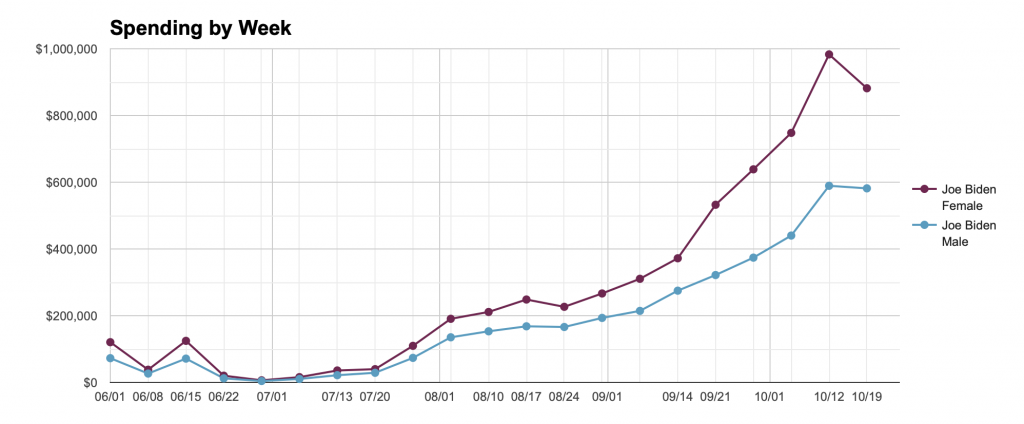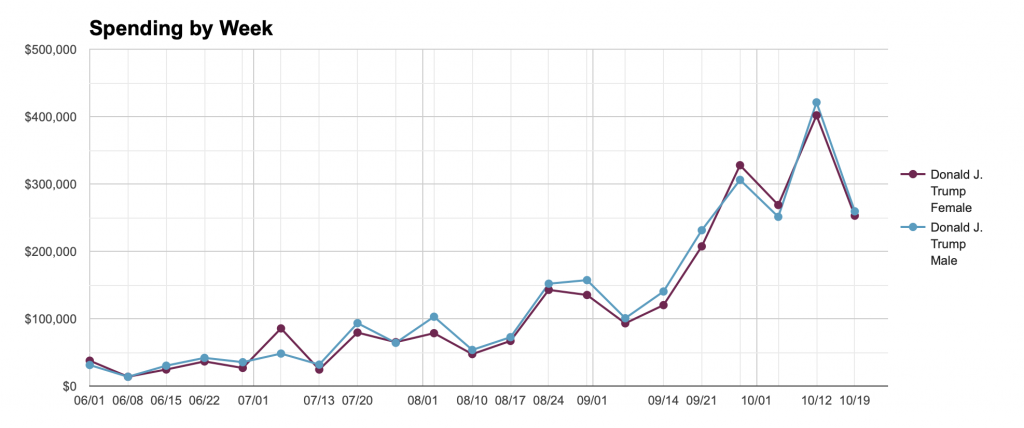 Trump attacks Biden on fracking issue
President Trump has run a lot of ads criticizing Biden and attacking him on the issue of fracking, which is viewed as a key Pennsylvania issue. In one ad, Trump says, "The Democrat Party hates fracking, they hate coal, and they hate domestic energy production."
Perhaps in response to Trump's claims, Biden has run multiple ads defending his position on fracking, where he says that he doesn't plan to end fracking. He ran an ad in October where he referenced a Philadelphia Inquirer article on his position. The ad said Biden "has not called for banning fracking. He also would allow existing fracking operations to continue."
Even though recent polls suggest that fracking is not popular anymore in Pennsylvania, with a majority of voters opposing it, fracking remains a key issue in Pennsylvania politics. In the CBS poll, 52% of PA voters opposed fracking, compared to 48% who were in support.
When looking at spending by message type, however, fracking and the environment do not rank near the top of the list. Trump's largest spending by message type in Pennsylvania has been safety, an issue which is now more salient in Pennsylvania as protests and riots have started in Philadelphia following the police shooting of Walter Wallace Jr. The three message types Trump spent the most on were safety, governance and economic issues.
Compare this to Biden, whose top three message types from June to October are economic, COVID-19 and social and cultural issues. One ad Biden has run that has focused on many of these topics attacks Trump on his COVID-19 response, the environment and national protests. This ad was mostlytargeted toward people under 34, an age group where Biden is expected to beat Trump.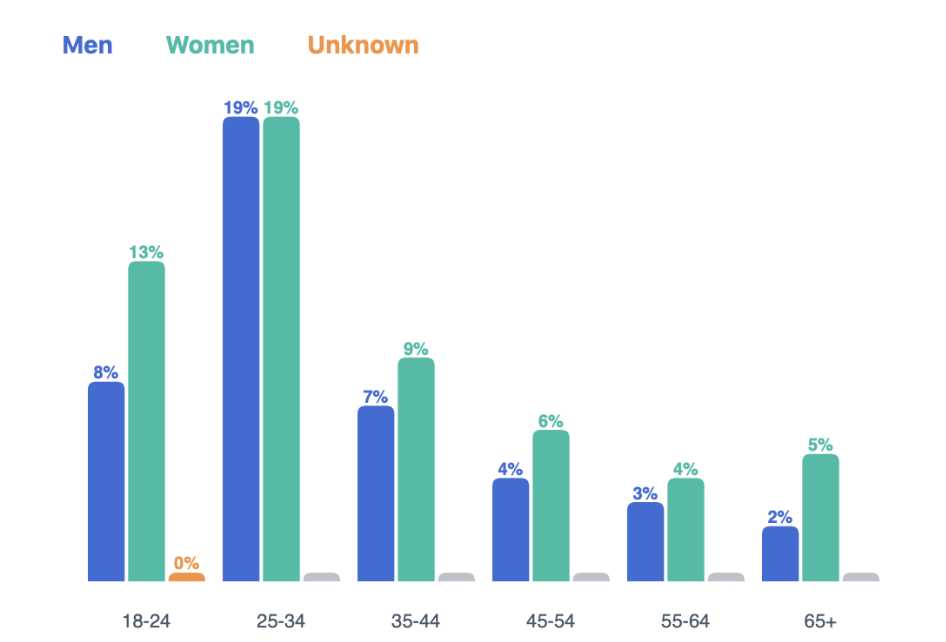 Trump's main account is less civil than the PA-specific Trump page
One interesting development throughout the course of the campaign has been the Trump campaign's fluctuation between focusing on running civil or uncivil ads.. The proportion of civil to uncivil ads has fluctuated significantly in recent months. But one interesting note is that the Trump for Pennsylvania page is not running as many uncivil ads, compared to his official campaign page. Biden's been far more civil in his Facebook and Instagram ad messages than Trump over the course of the campaign, and that remains true in Pennsylvania.

Trump's main account has had a little less than double the spending on civil ads than uncivil in PA, totaling 65.4% of his spending as civil. For the Trump for Pennsylvania account, 98.5% of the ad spending has been civil.
Biden's age spending skews younger, as does Trump's in recent weeks
When comparing the age breakdowns of the two campaigns' ad spending in Pennsylvania since June, Trump's campaign has continued to target people in the 45-64 age groups. In the last couple weeks, we have seen Trump shift his focus to younger adults, with 25-34 being the highest targeted group in the week of 10-12-10/25 in PA. For Biden, his spending by age group in Pennsylvaniais more similar to his spending in the rest of the country. Biden has not put much focus on the youngest age group, 18-24, but the next two older groups, 25-34 and 35-44, receive considerable attention from the Biden campaign.

This graph below shows the most recent two weeks, where 25-34 and 35-44 are among the more targeted age groups.

As of Oct. 29, FiveThirtyEight shows Biden with a 5.1% lead in the Pennsylvania polling average. Biden leads in the polling, but the race could swing on late deciders and a potential polling miss again. As candidates prepare their closing messages, we'll have to watch how spending changes in the final week across the Keystone State.
All data is accurate as of date of publication. All spending and impression amounts are estimates based on data provided by the Facebook Ad Library API. Featured image for this post is by Ethan Hoover on Unsplash.
How candidates are spending in Pennsylvania