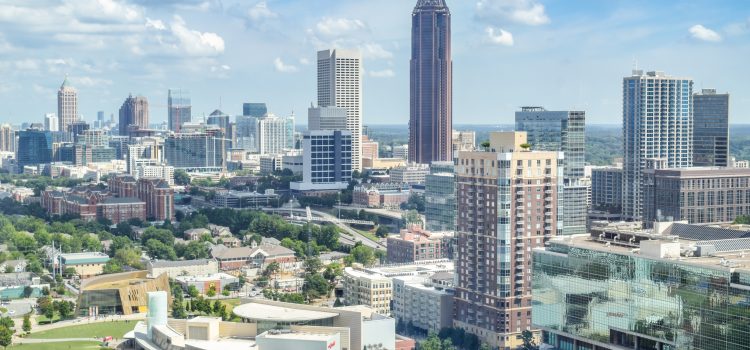 By Hailey Womer
Election day is upon us and all eyes are on Georgia. The results of the presidential election and tight senate races in Georgia could prove to be instrumental in the presidential race and a potential shift in Senate majority. In the last six presidential elections, Georgia and its 16 electoral votes have gone to the Republican candidate, which included Donald Trump in 2016. Despite Georgia's historically republican voting record, recent polls have Joe Biden and Donald Trump neck-in-neck, with Biden up two points and within the margin of error. While Biden is trying to win over voters that didn't vote or voted for Trump in 2016, Trump is doing everything he can to try and hold on to Georgia and its sizable amount of electoral votes. To help accomplish these goals, both candidates are spending millions of dollars on Facebook advertisements to win over undecided Georgia residents.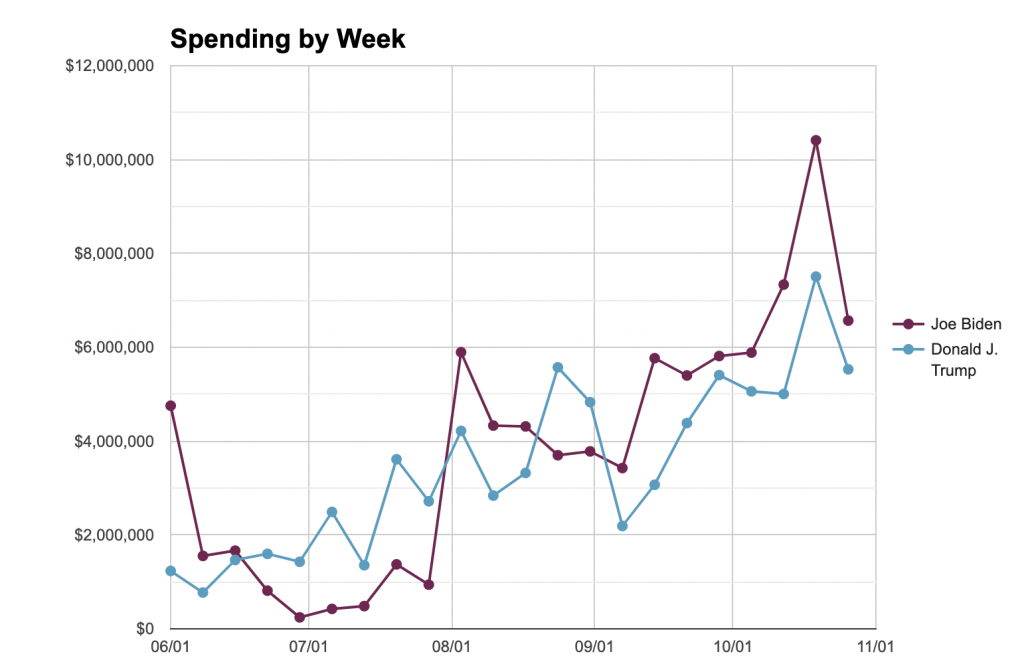 Between June 1 and Nov. 1, Biden's estimated overall ad spending total of $84,887,153 is greater than Trump's spending total of $75,619,389 (estimates based on ads run from the candidates' main Facebook pages). However, in Georgia Trump has significantly outspent Biden, spending over $4.2 million on campaign ads to Biden's $3.3 million dollars spent. When looking at weekly spending since June 1, Trump has consistently outspent Biden until September. This trend shifted the first week of September, as the Biden campaign began increasing their spending in Georgia and have since spent more or closely matched Trump's spending. This shift in strategy relatively late in the campaign is likely due to Georgia's new battleground state statusand polls showing Biden being highly competitive in a state that Trump won by five points in 2016. With 16 electoral votes, winning Georgia makes it easier for the Biden campaign to win the electoral college and would require the Trump campaign to win several other battleground states to remain competitive.
Message Type

When looking at the message types of Trump's Facebook ads his messaging in Georgia is fairly consistent with his overall messaging. He spends the most money on Call to Action ads with Attack and Persona ad spending trailing behind. However, Biden's ad spending in Georgia differs from his overall spending pattern and the spending strategy in other swing states. His overall spending reflects that his primary focus is on Call to Action ads. Like Trump, Biden continues to spend the most of his money on Call to Action ads in Georgia, spending an estimated $1.1 million on this message type. His strategy begins to change in the Advocacy ad spending, which he is spending nearly the same amount on as Persona ads. As Persona ads primarily focus on the candidate and their opponent's character, the increase in spending on these ads is likely for good reason.
In a most recent poll conducted by Emerson College, the sentiment was split with 47% of respondents stating that they disapproved of Trump's job performance with another 47% stating they approved. With the character of the incumbent in debate, it is unsurprising that Biden is running more Persona ads in Georgia. He is employing this strategy in other highly contested states, with Pennsylvania, Arizona, Florida, and Wisconsin all receiving similar Persona funding. Like Georgia, these states also saw an increase in spending in Advocacy relayed ad spending, ads that advocate for the candidate and emphasize their leadership strengths. This type of messaging paired with Persona ads assist Biden in convincing Georgia and battleground state voters to choose him over the other candidate.
Message Topic
While Trump's message type strategy didn't differ greatly in Georgia, he has employed a different message topic strategy in the state. His top three message topic categories of Governance, Safety, and Economic remain the same and continue to be his primary focus in the majority of the states. However he has increased his spending in the Immigration and Covid categories. His COVID messaging spiked particularly in the first week of October when he himself tested positive for the virus. His spending on the topic has since decreased, but his initial spending was enough to reflect a major focus on the topic. With the majority of voters in Georgia stating that they view COVID-19 as a major threat, statewide COVID cases on the rise, and a poor national unfavorability rating of the President's handling of the virus, this larger focus in Georgia is not a predictable move. Due to his unfavorability when it comes to his COVID response, running ads discussing this topic may trigger the opposite response in viewers than he may have intended.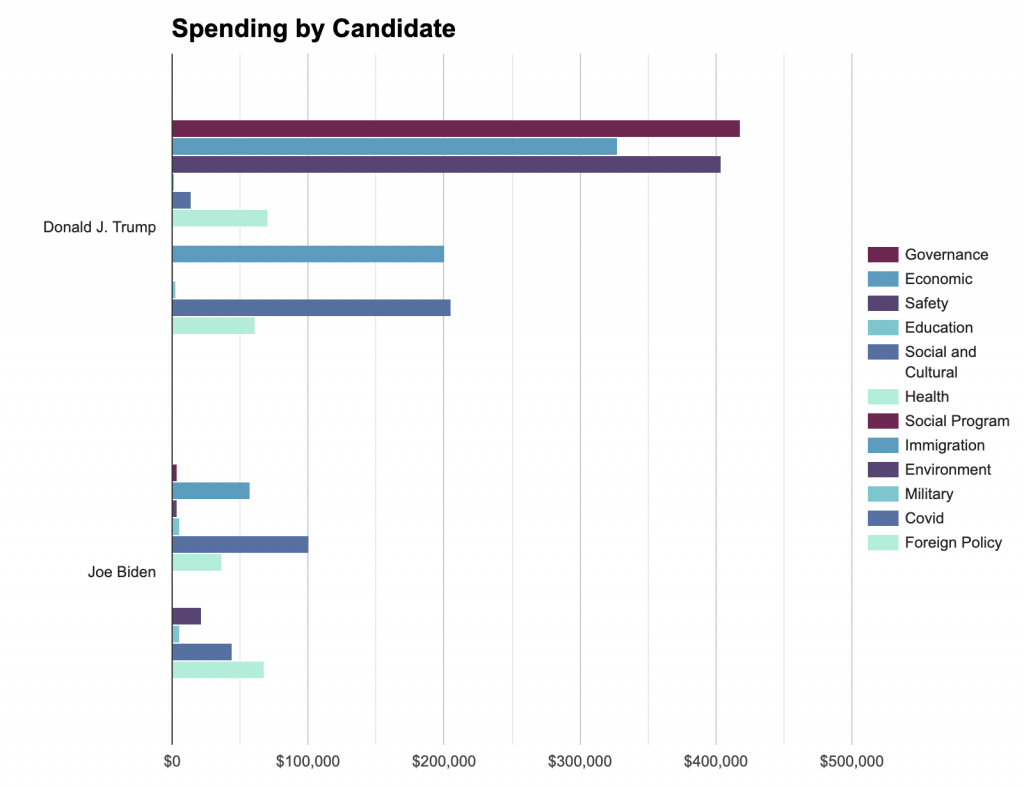 Despite Trump's increase in spending on virus-related ads, Biden has continued to spend very little on these ads in Georgia. In North Carolina, another southern battleground state, Biden is spending more on COVID-19 related ads than Social and Cultural ads. With the plurality of Georgia voters most recently polled stating the Economy, Social Justice, and COVID-19 as the issues most important to them, a greater focus on the virus and the President's response would have been more expected in Georgia to appeal to more voters.
When analyzing the data on the candidates' ad spending, it is clear that their strategies differ in Georgia and across the nation. Whether it is an increase in spending on COVID-19 messaging or a greater focus on Persona, it remains to be seen what Georgia voters will respond best to on election day.
All data is accurate as of date of publication. All spending and impression amounts are estimates based on data provided by the Facebook Ad Library API. The estimates provided in the Message Type and Message Topic sections are for Trump and Biden's main Facebook page only. Feature Photo by Nate Hovee from Pexels
All Eyes on Georgia: How Candidates are Spending in the Peach State